This page is dedicated to those individuals and dogs who have contributed to LDMRSDA.

Steve was a member of Wasdale MRT and worked with Search Dog Rosie – (the quickest thing seen on callouts on 4 legs!) Although Steve wasn't on the callout list very long, he and Rosie notched up some impressive finds. In July 2006, Rosie was diagnosed with a serious spinal injury and underwent major surgery. She was therefore unable to work until 2008, but returned successfully to operational activities. Sadly in March 2014 Rosie suffered more spinal damage and Steve took the decision to retire her. She has since passed away.

Penny Kirby is one of the duty Team Leaders of Wasdale MRT, and has been a member of SARDA since 1982. Her first Search Dog was Ben, followed by Mif, (half sister of Ben). Her third dog Pippi was graded at the end of December 2003 and made many successful finds. Penny retired Pippi in March 2014 after 10 years on the callout list, and went on to train Olly.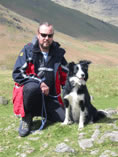 Les was a member of Kendal Mountain Search and Rescue Team. Kess and Les graded in April 2003, having survived the disruption to training caused by foot-and-mouth in 2001. Kess took part in many callouts and had a number of successful finds. She was retired at the end of November 2010, after Les decided that her health was beginning to deteriorate, and Les himself stood down from MR service in 2013.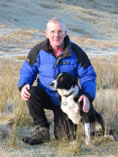 Mike spent 3 years as a body before deciding to train a search dog! Brin graded in March 1995, and worked up until March 2005 when he suffered a stroke. So after 10 years service, Mike decided to hang up Brin's jacket. Brin spent a happy 3 years in comfort keeping an eye on Mike's new graded searchdog Fly, and Mike's pet German Shepherd Paddy. Brin sadly passed away in November 2008.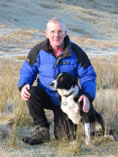 Mike has been a member of Cockermouth MRT for 20 years. After his graded dog Brin retired in March 2005, Mike agreed to take on Fly in November 2004 – another handler had been diagnosed with a terminal illness and Mike took over Fly's training and graded in 2007. Sadly, illness forced an early retirement for Fly in Dec 2013. Mike continues to be an Assessor, and is now training Fly's successor, Mij.

Anna was one of the longest serving dogs in the Association. She retired at the age of 13 and died aged 16 in Sept 2004. Anna was graded 'Novice' dog at 2 years old on the Annual Course with SARDA England in Keswick, then was upgraded to full search dog a year later in Patterdale. Over the years Anna and Joy attended many searches. Joy is still involved with the Association as an Assessor and graded her second dog Einich in 2011. Joy and Einich transferred to Coniston MRT.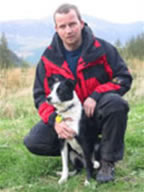 Andrew and Corrie graded at Pasture Beck, Hartsop in April 2003. Corrie was an abandoned pup rescued from a local police pound at 14 weeks old. She worked extremely hard for her grading and was well known as being the 'grumpiest bitch in SARDA'. Corrie and Andrew retired in 2011 after 8 years service. Andrew stood down from the Association when appointed Deputy Team Leader of his rescue team.

Chris has been a member of Keswick MRT since 1983, and has attended approx. 700 rescues and 240 searches. %u201CLoch%u201D (on the left of the picture) was Chris's second dog and was graded in 1994. She had worked on approx. 130 searches until her retirement in October 2004. Loch passed away on 6th December 2006 at the grand age of 14 years and 9 months. She was buried next to Tarn, Chris's first dog who was graded in 1985 and worked until 1994. Chris started training his new puppy Beck in 2010.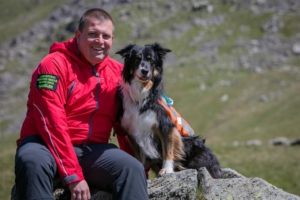 Kendal MRT
Air Scenting Graded Dog Team
John is a member of Kendal MRT , and a Senior Project/Technical Engineer with a specialist Offshore Oil & Gas company. Involved in Mountain Rescue for over 20 years, he was first with Duddon & Furness MRT, then more recently with LAMRT and now with Kendal MRT. He graded his first dog Skye in 2009, and has been on many callouts since. John is an Assessor with the Association and the pre-stage 1 coordinator (He gets to play with all the new puppies, the best job!!). He often gives talks and demos to all sorts of groups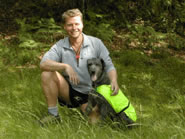 David and Moudy graded in May 2003. Moudy was a Bedlington Terrier / Greyhound cross – a breed commonly used for hunting game, and a very unusual sight on the fells. David (known as Benny, and renowned for his dry humour) had been a member of Kirkby Stephen MRT for many years, and became an Assessor with the Association. In June 2010, he left the Cumbrian Fells in a move to the Cairngorms. On his return to the Lakes in 2014, Benny joined Patterdale MRT, but regrettably without Moudy. Benny is now training a trailing dog in conjunction with NSARDA.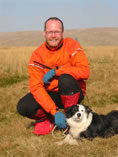 Handler Pete Collins and his border collie Kidsty graded in 2003 and worked with SARDA Lakes until spring 2007. They have now moved to the north of Scotland with fellow handler (and wife) Karen Newman to start a new life.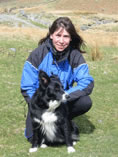 Handler Karen Newman and her lively border collie Drizzi graded in 2002 and worked with SARDA Lakes until spring 2007. They have now moved to the north of Scotland with fellow handler (and Husband) Pete Collins to start a new life. They have both kept in touch with their Lakes Handler friends. With sad news we have learned that Drizzi has passed away Dec 2014.
Bill was a retired orthopaedic surgeon, who had already tried training a search dog – sadly it wasn't to be first time round; but like many handlers he decided to try again, and learn from his mistakes. His new dog Ani proved to be a challenge, but he persevered and has ended up with a robust, determined search dog. He graded with Ani in October 2012. Bill decided to step down from the Association in 2016.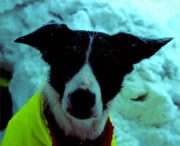 Gali and Kirk became a popular team in the Lakes, following a long and hard time spent in training, grading in 1998. Gali unfortunately became ill when she was ten, possibly due to a tick bite sustained during a search, and was retired in 2002. Gali died in November 2004, at which time Kirk graded her second dog Alpha. In early 2009 we were all saddened by the death of Kirk – she was a great member of the team and a good friend.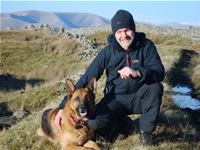 Ian started training his beautiful German Shepherd Vinny in the spring of 2006. Ian bodied for SARDA Lakes before deciding to train a dog. Although a german shepherd is an unusual sight in SARDA Lakes, this gentle giant of a dog progressed well and had lots of admirers. Ian and Vinny graded in March 2008. Sadly, Vinny was diagnosed with a serious progressive illness that forced his early retirement in November 2009. Vinny died on Dec 30th 2011. Ian then got a new pup, Keppi, who was a lean and speedy replacement. Ian and Keppi graded in 2012 after a whirlwind series of assessments. Unfortunately, Ian's circumstances changed, and after October 2015 he stood down from the Association.
Olly was a member of Langdale Ambleside MRT with his border collie bitch Kitt. She is related to a number of the other searchdogs and trainees, and exhibits their lovely temperament! Olly is a North West Ambulance Service paramedic, and when not involved in Mountain Rescue activities, can be found spending time with his young family, fell running and painting landscapes. Kitt passed her formal registration test in March 2007 and passed her last assessment in May 2009. She took part in a large number of searches. Unfortunately, time pressures led to Olly stepping down with Kitt at the end of 2015.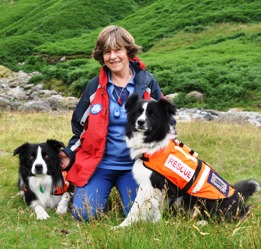 Olly was a big powerful collie, who was graded by Penny in ?. He was a demanding dog to train, but once qualified, proved a huge asset to Wasdale team because of his ability to cover huge amounts of ground. He had a number of long distance finds, and was a great favourite with team members. Unfortunately, in 2015 he contracted leukaemia, and passed away in. He was Penny's 4th search dog.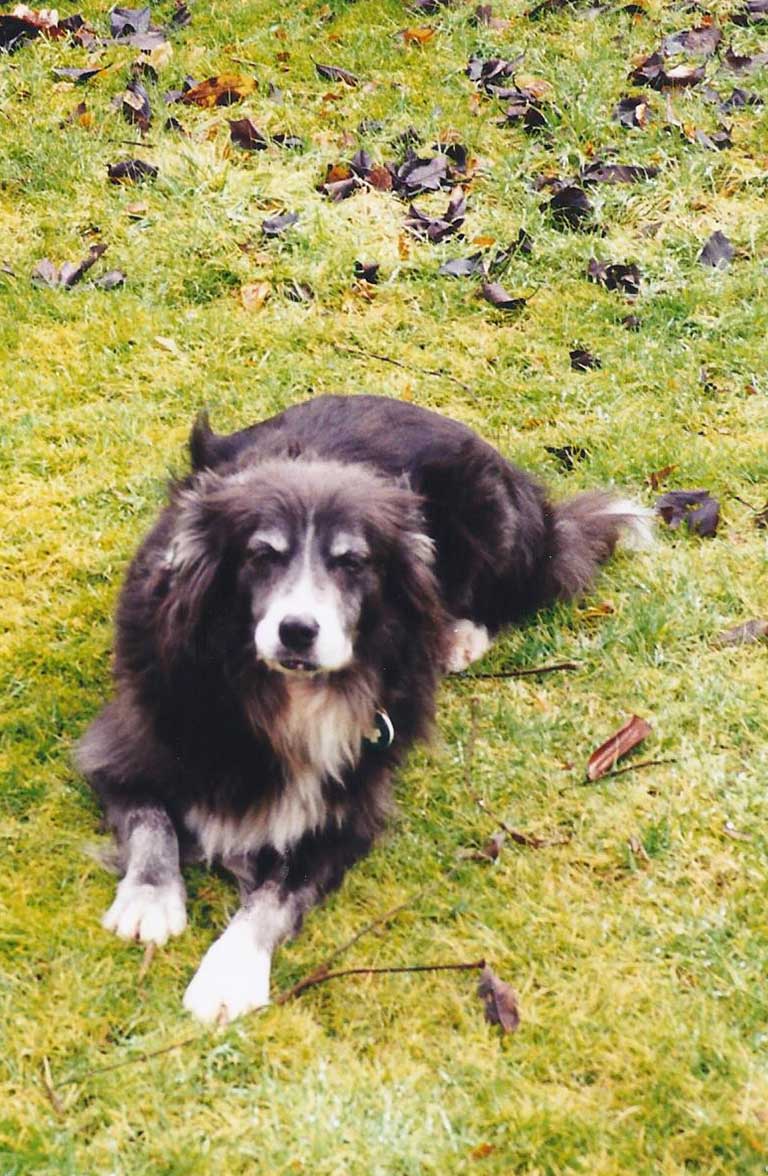 Spin was an unusual blue collie, born with blue eyes, and a blue-ish grey coat. She and handler Mick Guy graded with SARDA England in 1992, and they worked alongside Chris Francis' dog, Tarn, in Keswick MRT for 7 years, making 3 finds. She retired early with acute spinal arthritis, but pottered on gamely, passing away in 2004, at the age of 15. She, (along with other Keswick MRT Search Dogs), was laid to rest in the Search Dogs Graveyard in Whinlatter, close to one of the current training areas. Mick went on to train Mist as her replacement.
Mac, a border collie, was adopted by Elly after being found abandoned and half starved on a beach when he was young. He was a real gentleman and loved playing with his fluorescent frisbees. Elly and Mac started training in March 2005 and began their assessments in Summer 2006. Elly and Mac graded at Coombe Ghyll in March 2007. During his career Mac located several people, but his most memorable search was on Skiddaw in a full winter storm where he found an elderly woman close to death. He retired in 2010, and passed away in 2015 after a long illness.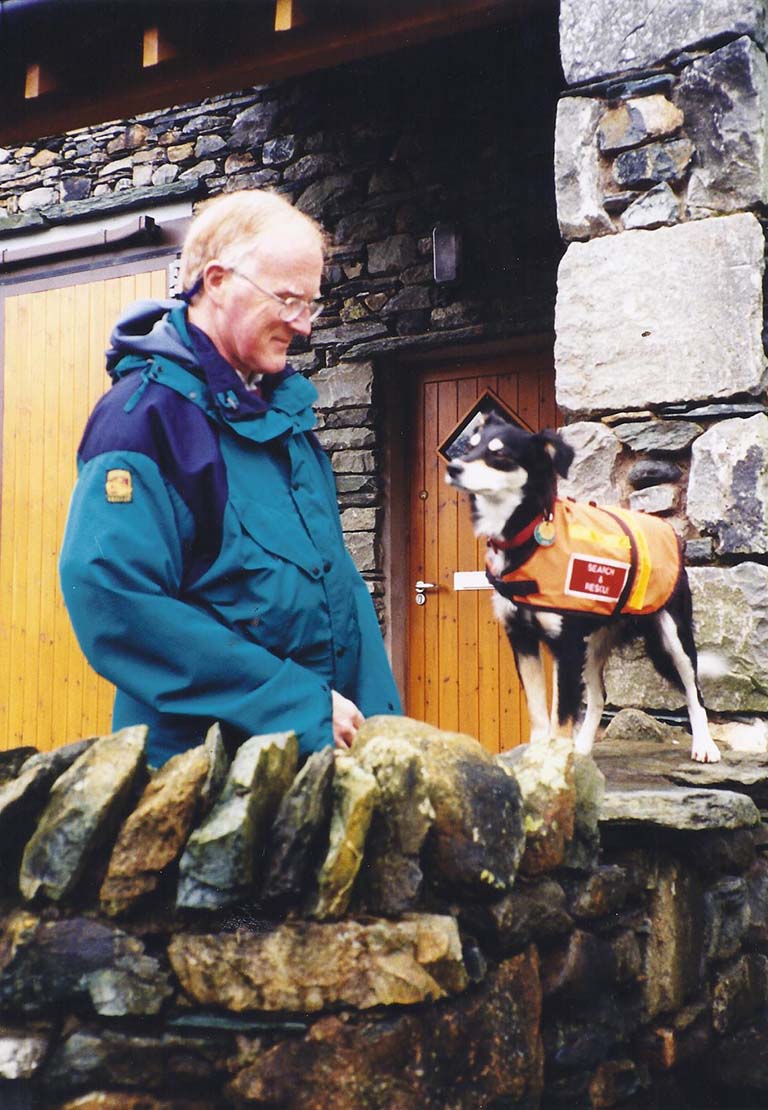 Mick started training Mist (known as 'The Ratter') in 1999, grading 18 months later. Although she sustained a spinal injury this diminutive collie/terrier cross was a stalwart of the SARDA teams and attended many callouts over the years – resulting in some very successful finds. She worked for a while with Ginny, her replacement, in a duo known as the "Gruesome Twosome", because of the noise they could generate between them. Retired in November 2009, Mist then had a secondary career of destroying squeaky training toys when Mick was assessing! She died of heart failure in October 2013, aged 15. Ginny took over as Mist's replacement.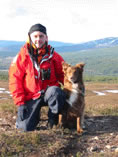 Mike and Comet graded as a team in the Winter of 2000, following a final assessment in white-out conditions in Coire an Lochan (Cairngorms). Comet, a red Border Collie, began his training with Mike whilst he was a member of Dartmoor MRT in 1997. During the years, Comet made many finds and was also known as 'lucky'! Mike was the Training Officer for SARDA Lakes 2004-6, and went on to train Moss. He is now the Team Leader of Patterdale MRT.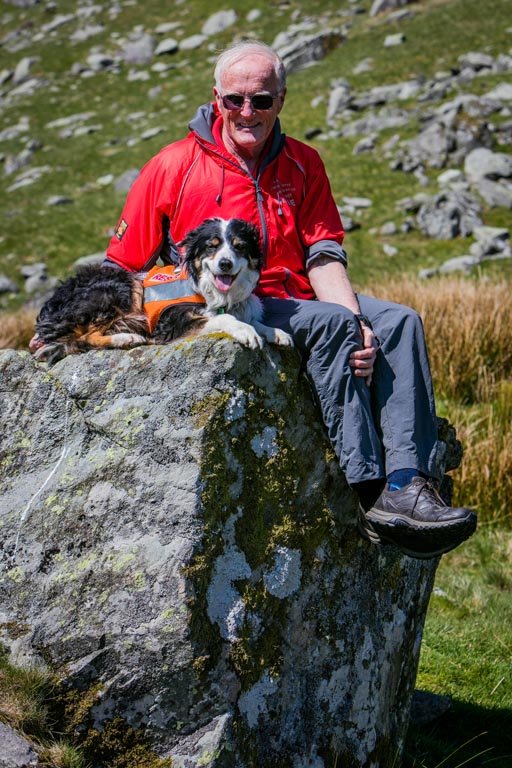 Mick is a member of Keswick MRT, who started bodying for SARDA in 1988, then became a handler with Search Dog Spin in 1992 . After that came Search Dog Mist in 2001, and then Ginny, his final dog, who qualified in March 2006. She was related to many of the other tri-colour collies in the Association. In total she clocked up 258 callouts, with 4 finds and a number of locates by the time she retired in 2016. She suffered a recurring bout of Vestibular Syndrome in September 2018, and had to be put to sleep. All three of Mick's dogs are buried in the "Search Dogs Graveyard" in Whinlatter Forest. Mick continues as an Assessor for the Association.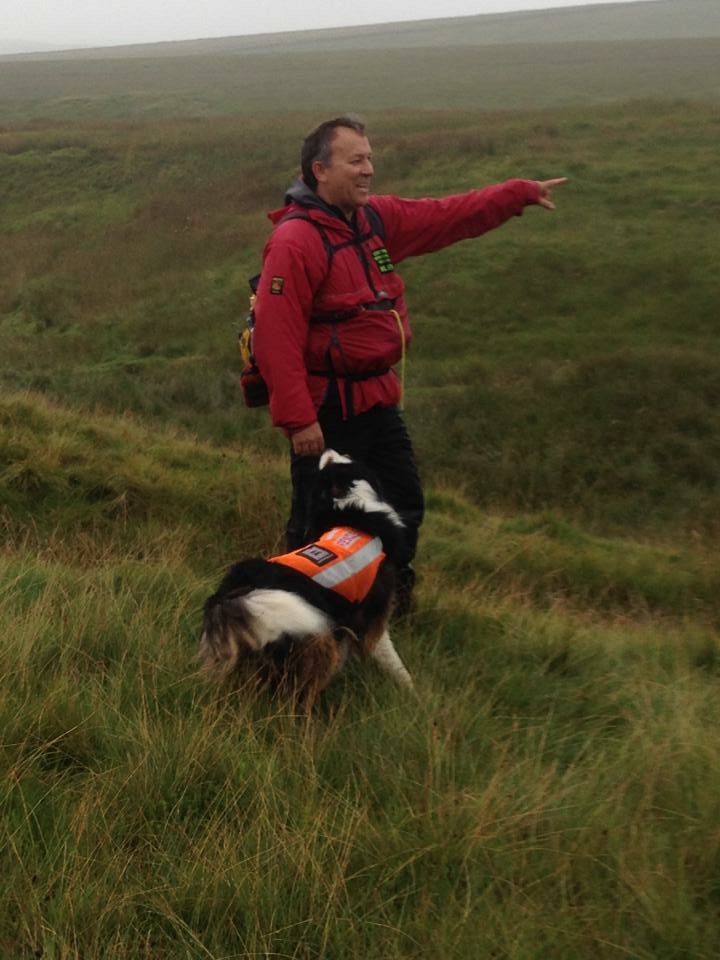 Paddy started his career as a search dog with Langdale Ambleside MRT in August 1998, had passed his yearly assessment on 24th September 2005 and took part in his last search on 10th October 2005. Paddy was involved in 100 searches and had 6 finds. He died on 16th October 2005, aged 9 years 10 months after a very short illness. Paddy was a much-loved family pet, and was sorely missed. Roger went on to train Beinn as his replacement.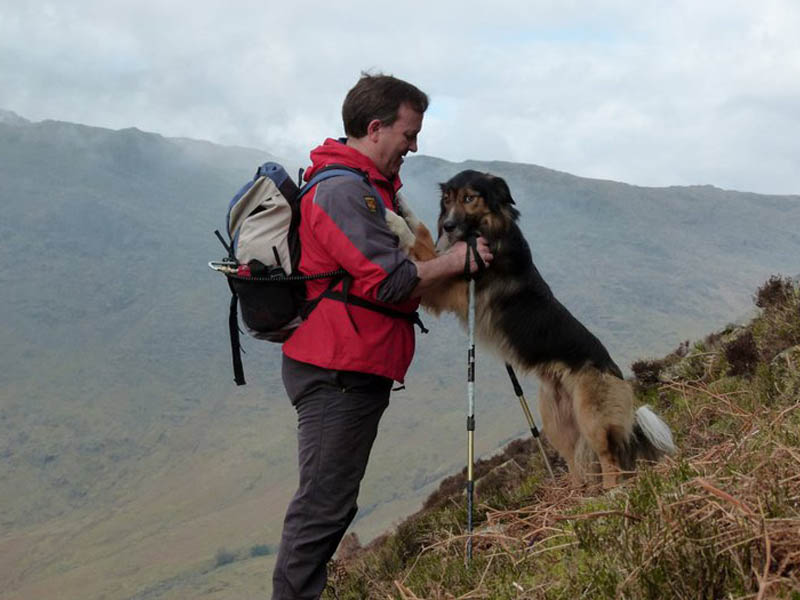 Beinn started training in early 2006, but unfortunately Roger sustained a leg injury in Jan 2007 which put him out of action for some months. On his return in July 2007, they resumed training. Beinn and Roger started their assessments in December 2007 and graded in March 2008. Beinn and Roger attended over 100 callouts in 3 years and had some excellent finds, some of which undoubtedly saved the casualties lives. Sadly, Beinn collapsed and died suddenly at the age of 6 in May 2011. Roger has gone on to train Ted.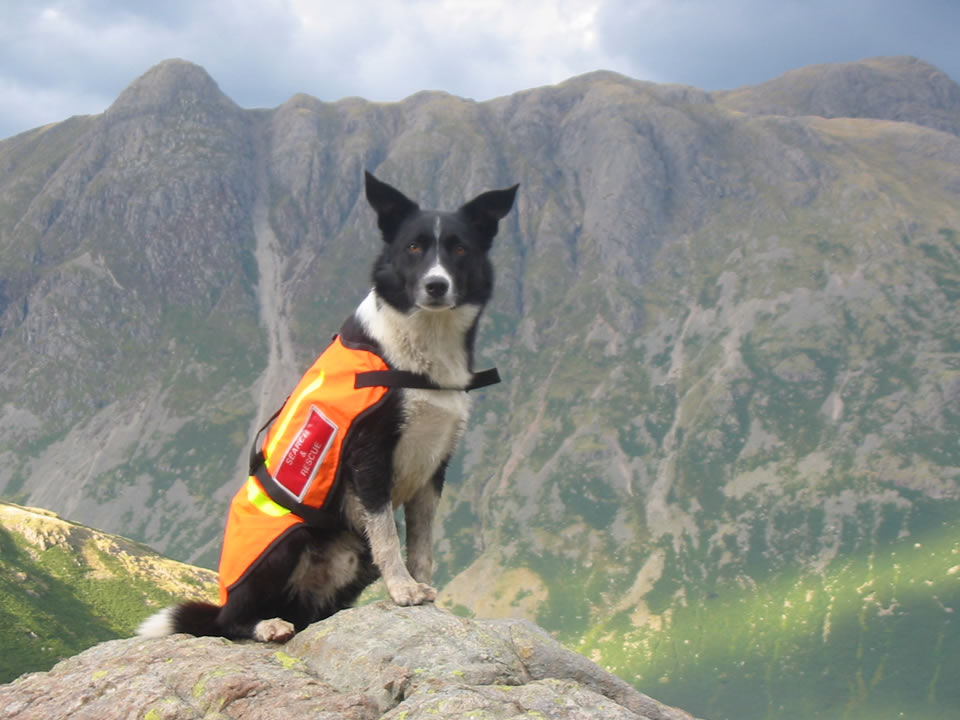 Christyne and her border collie Skye graded on the Scottish winter avalanche training course in Feb 2002. Skye was a great favourite with everyone because of his repertoire of 'tricks'. Following a number of injuries and operations Christyne decided to retire him in April 2008 after 6 years of operational duties and attendance at many searches. Christyne commenced training her new dog Bute in 2010, grading in 2012.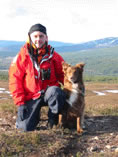 Mike adopted Moss in 2009 from a couple who were looking to rehouse her. They graded in 2011, and were soon making a significant contribution to callouts. However, Mike decided to retire Moss in 2013. He continues in Mountain Rescue as Team Leader of Patterdale MRT, one of the busiest teams in the Lake District.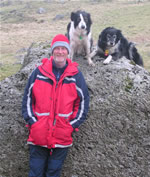 Searchdog Dynamite was Dave's 2nd searchdog. She retired in April 2010 at the age of 13, a great servant of the Association, and she and Dave have done a lot of callouts together. Many of us can remember Dynamite (pictured on the right) setting out on her training, as the only thing that would make her bark initially was either a Hoover pipe or a handbrush! Dave's second dog Flash (on the left) graded in 2006. Tragically Dave died in a plane crash at his home in May 2011.

Ric had been involved in mountain rescue since 1984 and was first placed on the SARDA call out list in 1990 with search dog 'Arrow'. Search Dog Bo (spot the link in the names ?), a Border collie / New Zealand Huntaway cross, who was on the SARDA Lakes call-out list for ten years, retired in January 2006 at the age of 13, after Ric felt that Bo could no longer maintain the necessary standard. Ric started training his new pup Col early in 2007. Sadly, Bo passed away in Nov 2007 at nearly 16 years. A change of circumstances meant that Ric was not able to continue in Mountain Rescue, and he retired from the Association in 2011.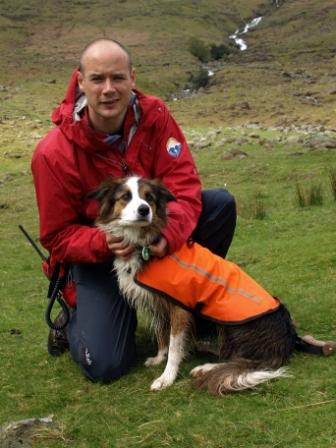 Olly is a member of Langdale Ambleside MRT with his border collie bitch Kitt. She is related to a number of the other searchdogs and trainees, and exhibits their lovely temperament! Olly is a North West Ambulance Service paramedic, and when not involved in Mountain Rescue activities, can be found spending time with his young family, fell running and painting landscapes. Kitt passed her formal registration test in March 2007 and passed her last assessment in May 2009.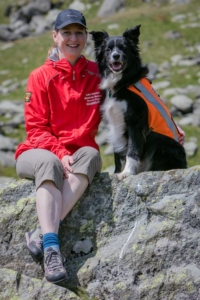 Cockermouth MRT
Air Scenting Graded Dog Team
Laura is a member of Cockermouth MRT and works as a Physiotherapist with a charity. She first joined us as a "dogsbody" and then decided to train a dog. Jake, born to a litter at High Lodore Farm, Borrowdale, started training in April 2006, when he was 2 years old. Laura (who has the distinction of actually being born at the National Mountaineering Centre in Wales) has always had a love of the outdoors. Laura and Jake graded in December 2008.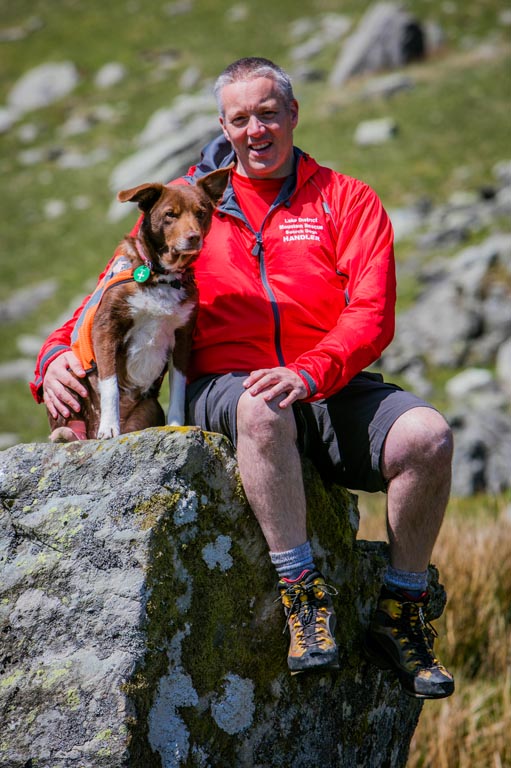 Patterdale MRT
Air Scenting Graded Dog Team
Andy works for Cumbria Fire and Rescue and is a Deputy Leader of Patterdale MRT. His dog – Corrie – is a red and white collie bitch who, although tiny in stature, is big in character! Andy and Corrie graded in October 2012. Corrie already has three finds to her credit, including a find in blizzard conditions on Helvellyn, and the location of an avalanche victim in Cairngorm. Andy is an Assessor and the Training Officer for the Association.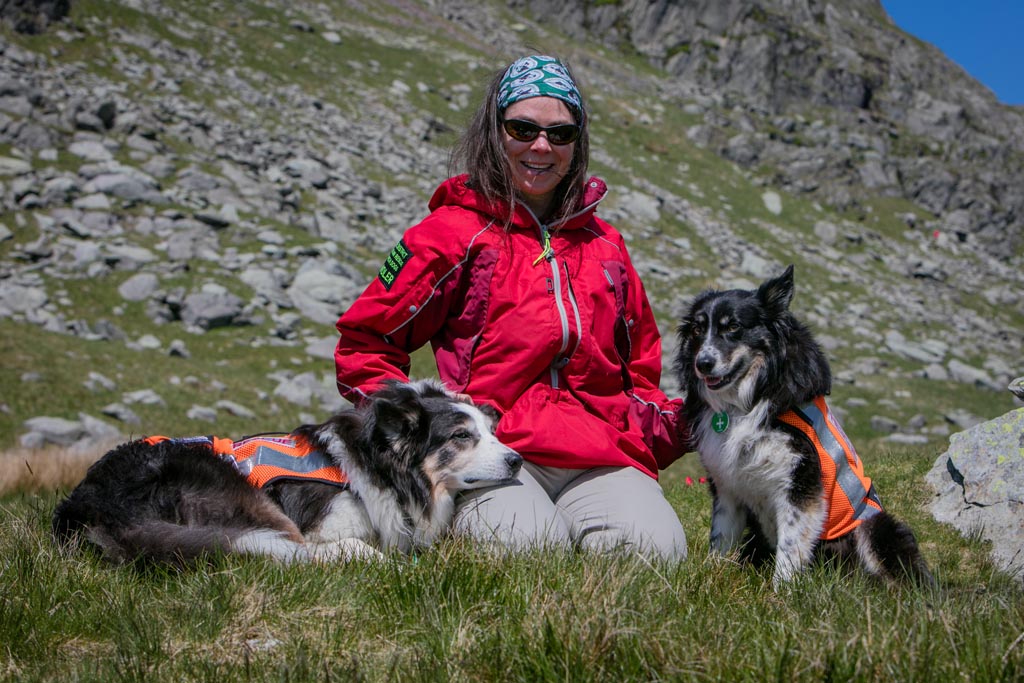 Keswick MRT
Air Scenting Search Dog
Elly is a member of Keswick MRT and her second dog is a Border collie bitch called Meg. It has taken a little while to get this timid little dog out of her shell but in November 2008, Meg passed her introductory test, and graded as a Search Dog in April 2011.
Elly is an Assessor with the Association, a member of the Committee and helps look after the 'Friends of the Search Dogs'.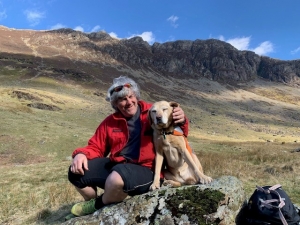 Search Dog Beck retires after 125 searches.
Search Dog Beck, a stalwart of the Association, has retired from service with the Association. With her handler Chris Francis, the Association's Callout Co-ordinator, she has been a very regular attender at many searches, clocking up 125 in a nine year career. Many were in atrocious conditions on the central Lakeland fells, as her home team, Keswick MRT, are one of the key teams serving this area.
Her retirement took place in the Newlands valley, the same location as she graded as a Search Dog in 2012, in beautiful weather. It was also fitting that the pup Chris hopes to grade as her successor, Gill, started training with the Pre Stage 1 group this weekend as Beck retired.
Beck took part in searches not only in the Lakes, but also in the Scottish Borders, the Highlands, Yorkshire and Lancashire, and was responsible for a notable find of an elderly gentleman in south Lakeland who had fallen and then become stuck in a section of woodland near Newby Bridge.
A gentle and amiable dog, Beck was well known for her grin when she met friends and Team members, and she will be missed for her dogged persistence at searches and in training. She will now enjoy a well-earned retirement.