This page is dedicated to our dogs bodies who routinely hide in the Lake District Fells for our Search Dogs to find. They hide in all weathers, day or night, they are the lifeblood of our training and we cannot thank them enough.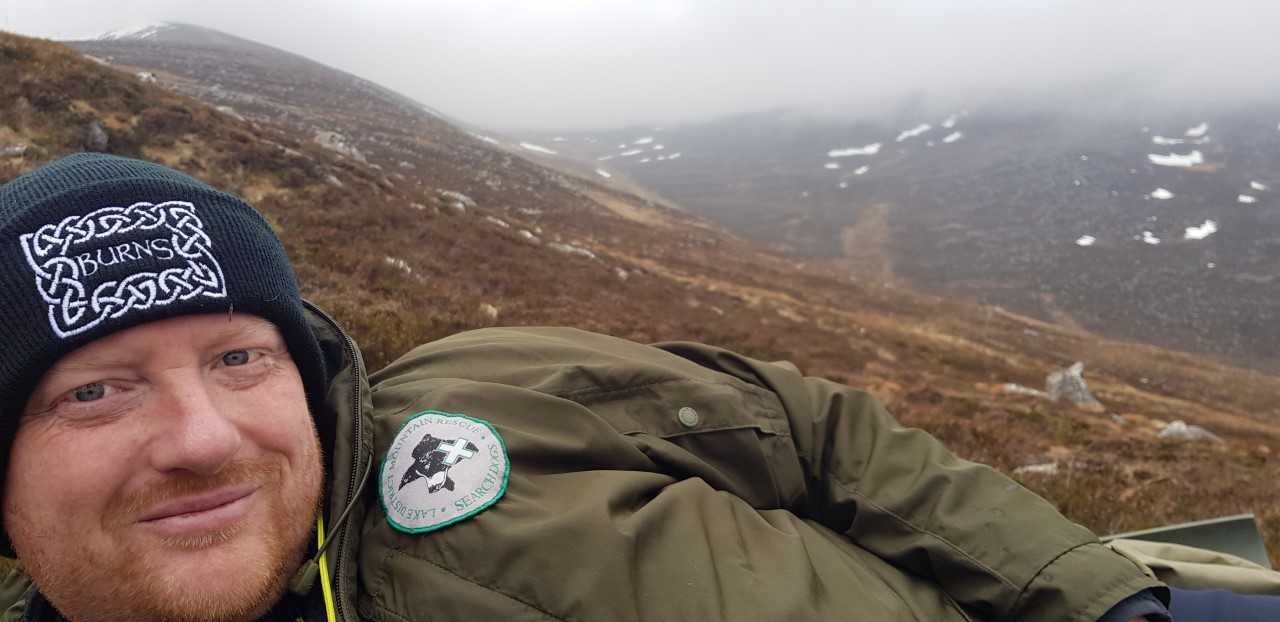 I started bodying for the association in early 2016 following a social media campaign for volunteers. I spend a lot of my spare time on the hills and whilst I have never had the need to require the services of the rescue teams, it is a great resource and I was keen to help in a small way.
I remember my first training session very well, a dark Tuesday night in Whinlatter forest in early March. I was made very welcome by both the handlers, assessors, other bodies and importantly the search dogs! I was first found by search dogs Bracken and Meg with their handler Elly. It wasn't until the lighter nights that I got to see what people looked like, as before then I had only seen other head torches and got to know their voices! I then began to attend the weekend training session which are held every month and got to meet other bodies, handlers and dogs for other parts of the Lakes.
We are out in all weathers and often attacked my midges, but it is all worth it when you see the excitement of a dog when they find you and all they want is to play with a toy or some treats.
Every year the association undertake a week's avalanche training the Cairngorms. I look forward to this although I get some funny looks when I explain to friends that I am going away to be buried in a 'snow grave' for a week. We aren't buried for the whole week but can be underground for up to 3 hours!
It is a real privilege to work with the dedicated handlers and their dogs and it is great to see trainee dogs go through the stages and become fully fledged search dogs who will be on call 24 hours a day to look for those in need.
Back in 2016 I answered an advert on Facebook looking for "bodies". I love dogs and the outdoors so it's a perfect use of my free time. I've been on some great adventures and made some lifelong friends, most importantly I'm doing my bit to keep people safe in the hills. It's exciting hearing the dogs bells and seeing a flash of orange jacket zipping across the hill knowing you're about to be found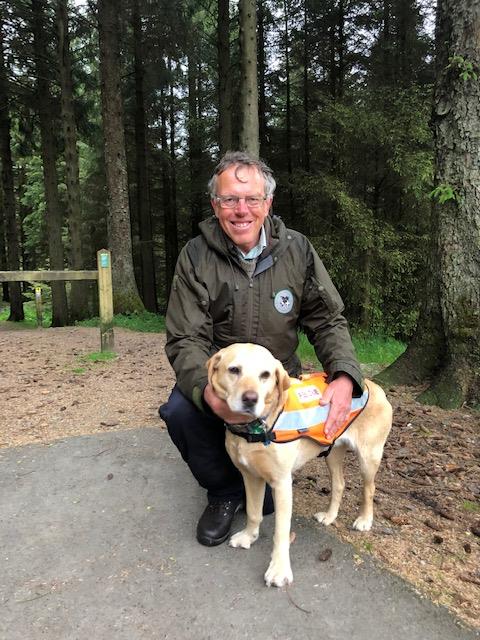 I started bodying in 2014 after seeing a leaflet in a local supermarket. Always been fond of dogs despite never owning one. This way I get the fun and enjoyment of their company without the commitment and responsibility!
I've fortunately never had to call on the services of the rescue team but it's very reassuring to know there is this team of highly skilled and dedicated people and dogs out there. It's been very rewarding to witness the progression of a number of dogs and their handlers through their training and ultimately pass their final assessments to become fully graded search dogs. Privileged to feel that I have contributed in a small way.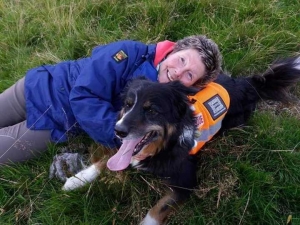 "A few years back, myself and a group of colleagues from my workplace, visited a search dogs training session one evening up on Red Screes. We also presented a cheque to the Lake District Mountain Rescue Search Dog Association, as this was a charity the department supported. Myself and one of my colleagues were then given a brief taste of bodying and I realised just how important a dogs bodies role is, in helping to train the dogs to become operational search dogs.
For many years, myself and my family have always enjoyed walking the Cumbrian Fells and thankfully I have never needed to call on the Mountain Rescue teams, but my Aunty did need their help on one occasion. So, when I saw a post on Facebook advertising the Open Day and asking if anyone would be willing to become a volunteer for the LDMRSDA, I thought I could volunteer my time after work in an evening or at a weekend, although I don't live locally (approx. 1hr 30 to 2 hrs drive away).
I got in touch with the Association and in September 2017, arranged to meet search dog handler Joy Grindrod with her gorgeous dog Einich, at Red Screes one Thursday evening and this was the start of my bodying with the LDMRSDA.
I have a dog of my own and a love of dogs in general, plus I love the Lake District, so I thought this would be a perfect charity to support. I can truly say it has been an amazing experience to work with these highly skilled Mountain Rescue handlers and their fantastic dogs and to watch a young trainee dog progress from a giddy puppy on its journey towards becoming a fully graded search dog, which can take up to 3 or 4 years of intense training.
There is so much hard work and training done by the Mountain Rescue teams, handlers, assessors and the bodies, in all weathers, so for me, I have a huge amount of respect for them all and although I live some distance away, I am so pleased to be able to volunteer my time as often as I can, knowing I am contributing to the success of the Lake District Mountain Rescue Search Dogs Association.
This charity is so worthy of support and everyone involved in the Association are all volunteers and give so much of their time to help train these amazing search dogs in rescuing anyone in need of help. Not only do they rescue people, but animals too. It's so good to know that these dedicated teams with their dogs, are always on hand 24 hours, 365 days a year, whatever the weather, to save lives.
It really is one of the best things I have got involved with and although my contribution is relatively small, I know how much they rely on the dogs bodies support. I look forward to continuing being a dogs body for many years to come and wish the Association continued success."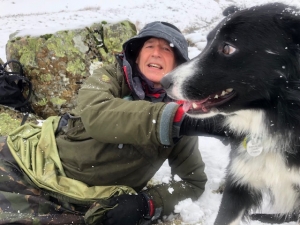 I have been a "dogsbody" for about two years now and love it. It is the first time in my life that I
have been encouraged to lie on a Lake District hillside for a couple of hours doing nothing and yet
I can still feel that I am doing something useful.
There is something very special about being out on a cold winter's evening in the snow, hiding
and waiting for the tell tale tinkling sound of the bells on a dog's coat and then the bark of a
training "find" before it runs off back to its handler to bring the handler back to you for the dog's
reward of a play.
I came into bodying via a neighbour who is a longstanding MRT volunteer and who knew about
my interest in dogs and my love of the mountains. Basically the role of a "dogsbody" is to go to a
beautiful location, take instruction from the handlers/assessors, lie down quietly until found and
then play with some exceptionally talented and well trained dogs. It allows us to contribute in a
small way to the work of the LDMRSDA and, unlike the handers and their dogs, we get to go
home each night and don't get called out on rescues.
Each dog is unique and each has its favourite reward. Getting to know them all and their ways
keeps us all interested. It is a privilege to be involved in the development of the dogs into fully
fledged Graded Search Dogs. I have learned so much about dogs and dog handling (even though
I have had my own dogs most of my life).
My own dog is a whippet, unlike the collies and labradors that make up most of the graded
search dogs. There is a saying that collies and labradors are born half-trained and whippets die
half-trained so that perhaps explains why there are no whippet search dogs!