The following dog teams are currently progressing through the training and assessment structure. They are not currently operational until they pass their assessments.
It takes on average 2-3 years to qualify as an operational team. Click on the picture to find out more about the handlers and their dogs.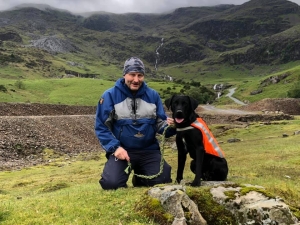 (Cockermouth MRT)
Air Scenting Trainee Dog Team
Stage 2 – Training
Mike, a member of Cockermouth MRT  for many years, and former Team Leader is now training his 1st dog Blue. Blue is a lively Labrador to say the least, he has a fascination with his toy duck! We look forward to working with Mike & Blue.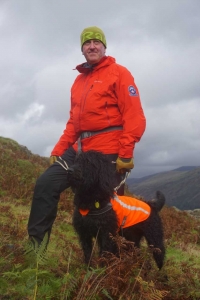 (Kirkby Stephen MRT)
Air Scenting Trainee Dog Team
Stage 1 – Training
Grant has been in Mountain Rescue for 17 years, a member of the Kirkby Stephen team for 7 years, and with Swaledale prior to that. He already has a portfolio of MR skills including Rigging for Rescue, Swiftwater and Cascare, and is now looking forward to the challenge of becoming a Search Dog handler with Tommy. A two year old Labradoodle with endless energy & drive, he came to Grant as a rehomed rescue at 7 months, via Jen Cartmell, our puppy & pre-Stage 1 adviser. Grant was aware that he would be a challenge, but describes him as "an awesome dog, that has massive toy drive, hunts instinctively and covers ground with what seems like an everlasting battery.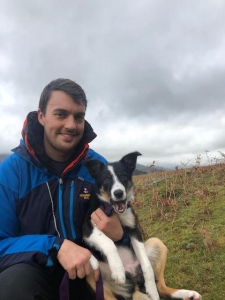 (Cockermouth MRT)
Air Scenting Trainee Dog Team
Stage 3 – Training
Tom, a member of Cockermouth MRT  is now training his 1st dog Bess. Bess is a lively collie to say the least, she has a fascination with the game 'tuggy' and trainee search dog Marty… Bess is quickly learning the 'Searching' game and loves barking… maybe too much… They have progressed very quickly in stage one and have now moved to stage two, and now are on their final assessments!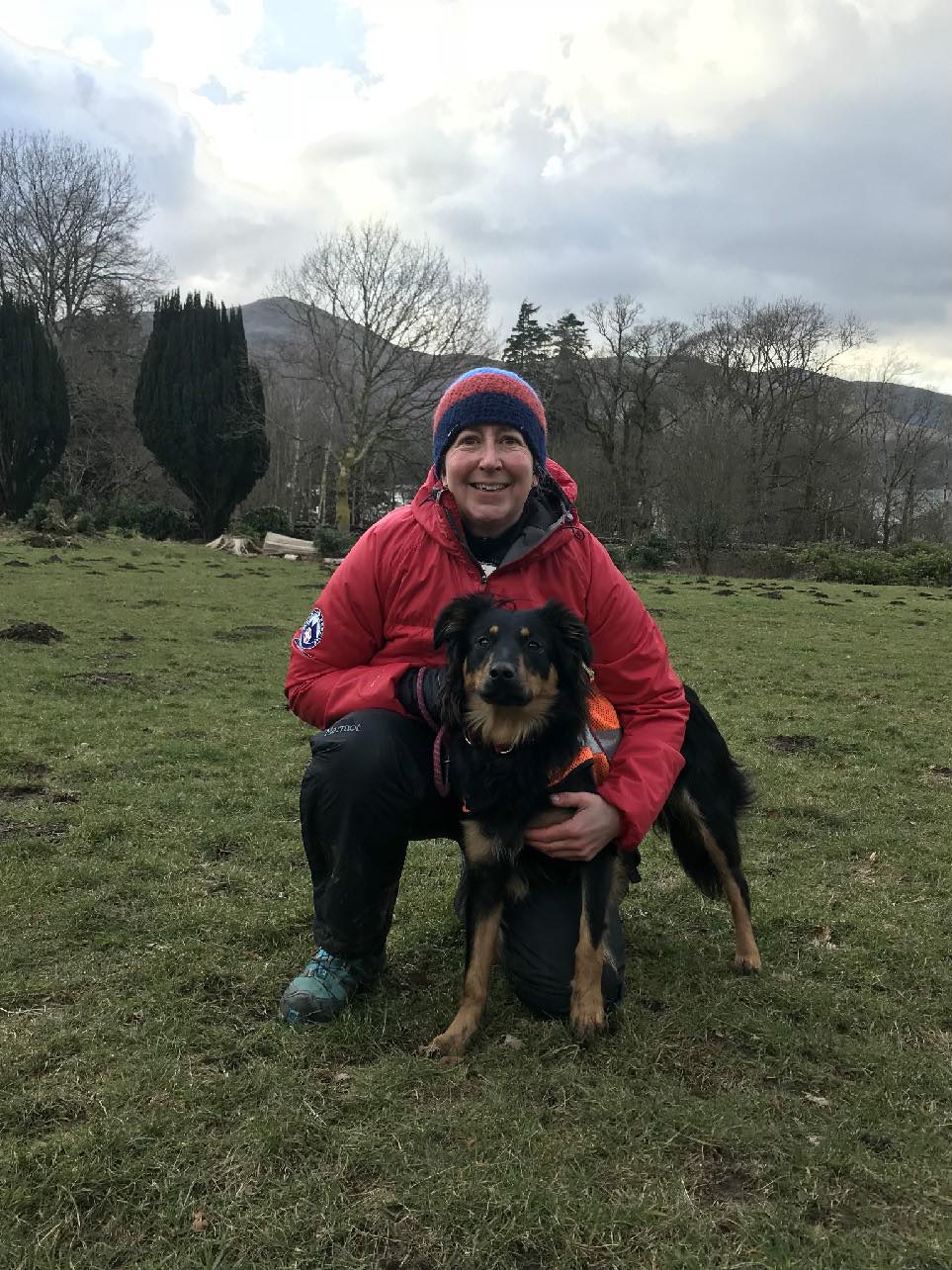 (Kendal MRT)
Air Scenting Trainee Dog Team
Stage 1 – Training
Jacqui has taken the plunge to train her own dog.
Jacqui and her English Shepherd,  Ivy, have just passed their obedience and stock test and are now part of the Stage 1 training.  Ivy is the 3rd English Shepherd to be trained within the Lake District Search Dog Association and she is related to Search Dog Fern.  Ivy loves the search training, but also loves a cuddle when she is relaxing at home.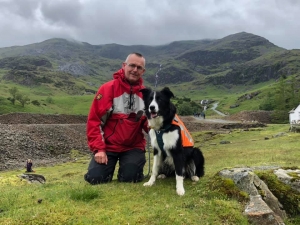 (Keswick MRT)
Air Scenting Trainee Dog Team
Stage 1- Training
Geoff, is a member of the Keswick MRT for 15 years, and is now training his first dog Jake. Jake is a tall border collie with lots of energy, and loves to play with anything "squeaky" and is loving his training. Jake is settling into the challenges of Stage 1 along with his friends, Blue and Bess. We look forward to working with Geoff and Jake.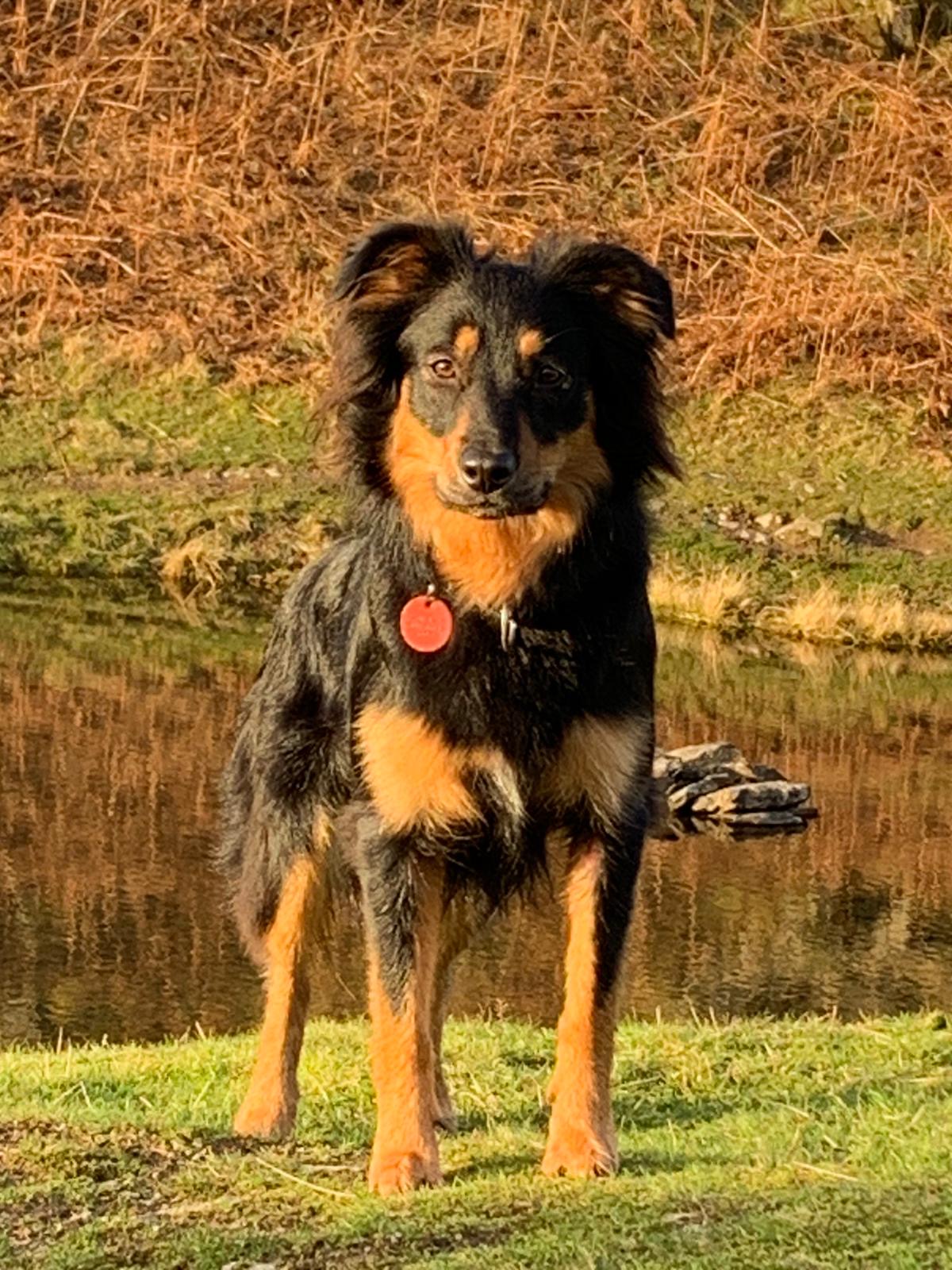 (Kendal MRT)
Air Scenting Trainee Dog Team
John Dunbavin is one of the Association's Assessors/Officers. He is also an Operational Graded Search Dog Team with his dog Cuillin. John has decided to train another (rare) English Shepherd. This breed of dog is new to the world of Search Dogs, not only in the Lake's, but also with our sister associations. John D and Ceilidh (born 26 June 2018) are a dream to watch, and you can already see the strong bond developing between them. A perfect pair, quietly spoken John with the infectious, high pitch bark of Ceilidh. Some would say that this little girl has her owner wrapped around her little finger (paw). Ceilidh and John passed the Introductory Assessment and stock test at the March 2020 training weekend.