The following dog teams are currently progressing through the training and assessment structure. They are not currently operational until they pass their assessments.
It takes on average 2-3 years to qualify as an operational team. Click on the picture to find out more about the handlers and their dogs.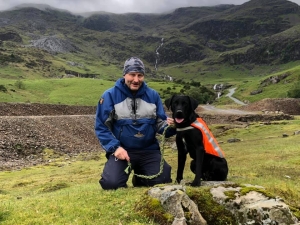 (Cockermouth MRT)
Air Scenting Trainee Dog Team
Stage 2 – Training
Mike, a member of Cockermouth MRT  for many years, and former Team Leader is now training his 1st dog Blue. Blue is a lively Labrador to say the least, he has a fascination with his toy duck! We look forward to working with Mike & Blue.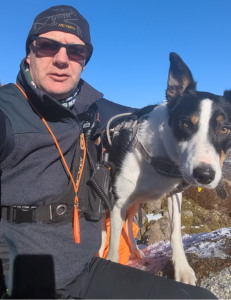 (Penrith MRT)
Air Scenting Trainee Dog Team
Mike Evans has been a member of Penrith Mountain Rescue Team since 2014 and has been volunteering with various UKSAR teams since 2006. Fjell was born in July 2021. Her then owner wished to do something special by donating one of the litter of puppies to the Lake District Mountain Rescue Search Dogs Association and Fjell joined us at 8 weeks old. She started her basic training in January 2022 and graded into stage 1 in January 2023. Fjell is a high drive collie with a very good willingness to work. Her favourite game and reward is 'tuggy'.
Jura, Handler John Leadbetter (Kendal MRT)
(Air Scenting Dog Team)
John Leadbetter is an Assessor with the Association. He is also our Pre-Stage 1 Coordinator and a Graded Handler with Search Dog Skye. John a long-standing member of LDMRSDA, has decided to see if his new puppy 'Jura' has what it needs to be a Mountain Rescue Search Dog. She comes from a good line in Working Trials, but also has some big paws to fill to follow her 'house sister Skye' (who has currently served over 10yrs and a graded Search dog).
Puppy Gaspode, Handler Thomas Ferrero (Duddon & Furness MRT)
(Air Scenting Dog Team)
Tom Ferrero is 'new' into Mountain Rescue, having joined in 2016. After becoming a full team member with Duddon, Tom then set his sights on the Search Dogs. He first started out as one of our 'dogs' bodies', gathering advice from handlers before getting and beginning to train his first dog, Gaspode (born 31st Jan 2019). Named after a Terry Pratchett character (Gaspode is Foul Ole Ron's thinking-brain-dog) Gaspode is an intelligent young golden Labrador who will do anything for food! Tom's thirst for adventure is reflected in his dog, as Gaspode can always be seen to explore the training areas.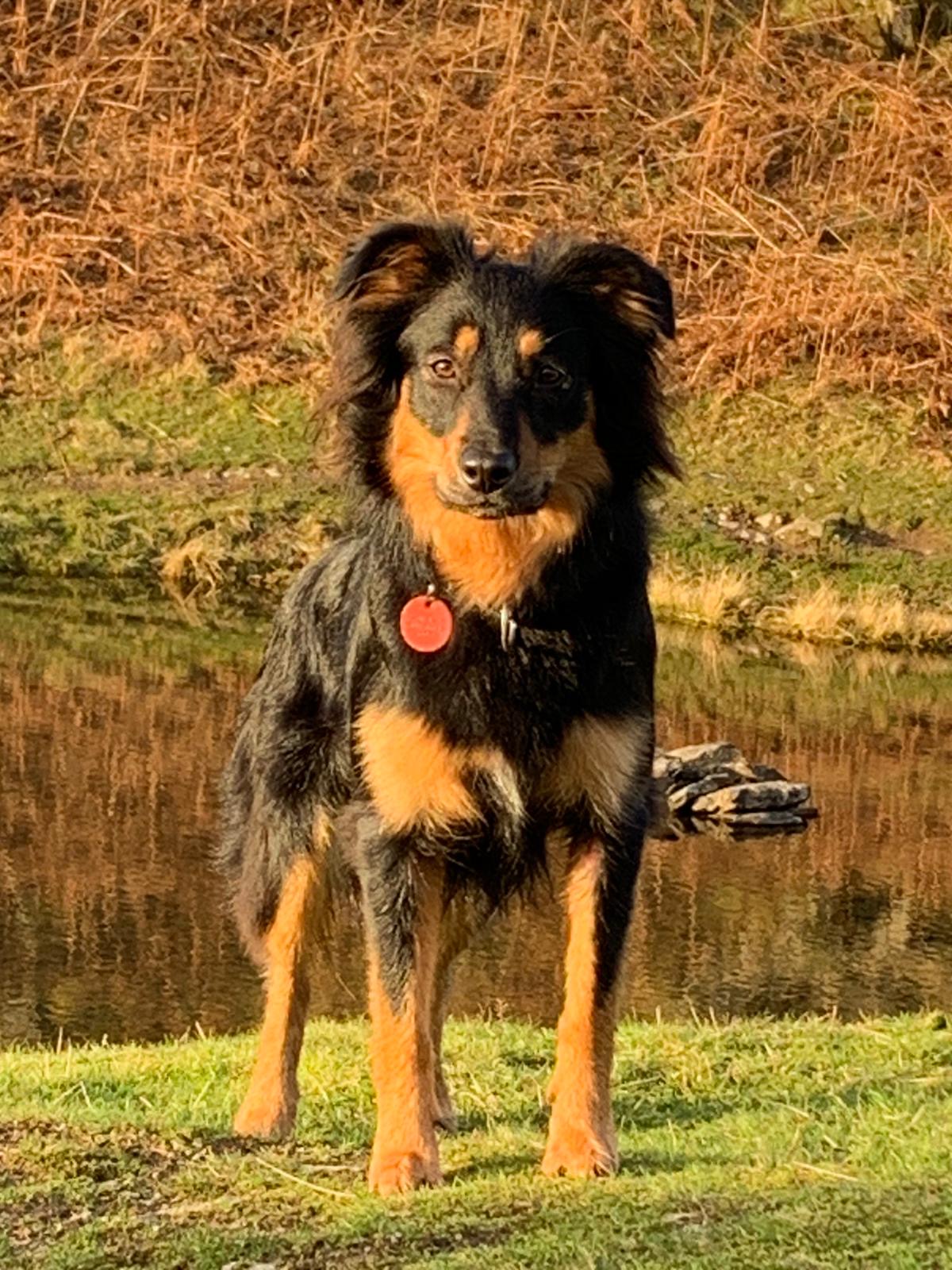 (Kendal MRT)
Air Scenting Trainee Dog Team
John Dunbavin is one of the Association's Assessors/Officers. He is also an Operational Graded Search Dog Team with his dog Cuillin. John has decided to train another (rare) English Shepherd. This breed of dog is new to the world of Search Dogs, not only in the Lake's, but also with our sister associations. John D and Ceilidh (born 26 June 2018) are a dream to watch, and you can already see the strong bond developing between them. A perfect pair, quietly spoken John with the infectious, high pitch bark of Ceilidh. Some would say that this little girl has her owner wrapped around her little finger (paw). Ceilidh and John passed the Introductory Assessment and stock test at the March 2020 training weekend.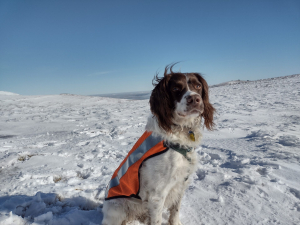 (Duddon & Furness MRT)
Air Scenting Trainee Dog Team
Roxy is the first Springer Spaniel to train in the association. She is very friendly to both humans and especially to the male search dogs…She is just a little bit ball obsessed and loves finding the bodies for a play and a cuddle. As a Spaniel, she hunts differently (runs round in circles, propelled by her tail) to the other dogs, and is starting to show great progress in the search game. Tom is from DFMRT and Roxy is his first dog.