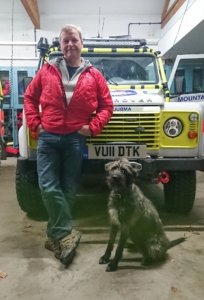 On Sunday 8th December, Benny & Brock passed the final assessment of their upgrade to Full Trailing Dog status at Cunswick Scar, Kendal.

The Team trailed a "missing person" over a distance of 1250m in difficult wind conditions, through multiple path junctions, to find "James" (played by Dogsbody Shane) hiding by a wall.

The Team were assessed by Iain Nicholson & Tom Middlemass, Trailing Assessors, who have been mentoring the team over the last 4 years. This qualification means that the team are officially recognised as a fully graded Mountain Trailing Team.
Well done both!
We would like to thank SARDA Wales for helping the team through their training. We would also like to thank our dedicated Dogsbodies for braving the weather to enable all of this to happen!
Call Out Date:
Call Out Time:
Stood Down Time:
Team / Agency:
Full dogs / Local Dogs:
Search Dogs Involved:
Call Out Details:
Call Out Conclusion: