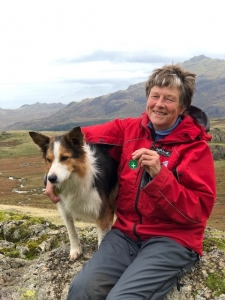 Penny Kirby from Wasdale MRT graded her dog Jess as a Searchdog on Saturday 5th October.

Jess is Penny's 5th dog in a career as a handler, which started with Search Dog Ben in SARDA England days – 30+ years ago.. Since then, Penny keeps coming back for more, with some interesting training rewards – Mick said that he'll never forget her turning up with dried Fish skin, to reward the second dog, Miff, during training. She would always claim that things weren't going well in training any of the dogs, yet consistently turned out great search dogs – Ben, Miff, Pippi, and Olly – who served her, Wasdale team and the Association with great distinction.

The latest, Search Dog Jess, is another success for a dedicated handler.
Call Out Date:
Call Out Time:
Stood Down Time:
Team / Agency:
Full dogs / Local Dogs:
Search Dogs Involved:
Call Out Details:
Call Out Conclusion: